Is it very difficult for you to prepare a healthy and quick lunch to take to work?😰. You are in the right blog!🌟

We present 5 delicious and healthy food recipes that can be a great option for you. Take note
📝📝
1/5
Recipe for vegetable tart and green salad


Ingredients for making pie dough:
250 wholemeal flour
1 teaspoon baking powder
1 large egg
50ml Of olive oil
50ml of white wine
½ teaspoon of salt
How to make pie dough?
Combine all ingredients, knead until smooth. Let stand for at least 30 minutes with film in contact. Stretch and cover the pan .
Ingredients for a vegetable tart
2 zucchini grated
2 small carrots grated
1 egg
1 tablespoon cream cheese
1 tablespoon Parmesan cheese
filleted mushrooms
Pinch of salt, pepper, nutmeg.
1 teaspoon garlic powder
1 teaspoon of sugar
How to make the filling for a vegetable tart?
There are two possibilities, fry the carrot, zucchini and mushrooms in a pan with oil and then add the other ingredients or put everything raw. It is good in both ways, but the braise improves the taste .
2/5
Potato salad with bacon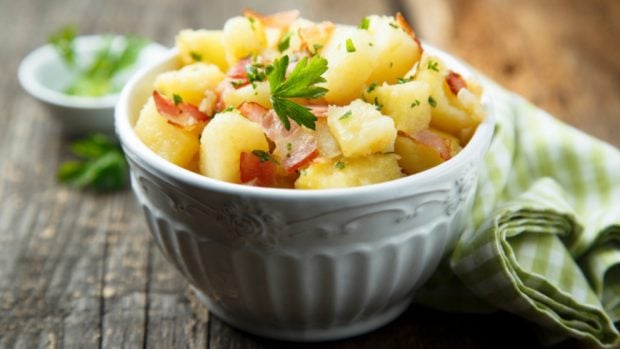 Potato salad with bacon is one of those recipes that we have ready in a few minutes and is perfect for eating at the office. Its range of flavors will give us energy and fill us with carbohydrates and proteins. A very complete single dish that will help our body to remain in top shape and endure until the end with a smile. Potatoes are wonderful, very versatile, for vegetarians we can put pieces of aubergines or zucchini.
Ingredients:
500 gr of cooked potatoes
150 gr of bacon cut into cubes
2 onions
Salt
Pepper
6 tablespoons of vinegar
6 tablespoon olive oil
1 tablespoon of mustard
1 sprig of parsley
Elaboration:
We start by cleaning the potatoes and cook them in the microwave at maximum power for about 15 minutes. Peel them and cut them into cubes of the same size.
Cut and peel the onions, to make them finer we can grate them.
Sauté the onion and bacon in a pan until golden brown.
Add the onions and bacon to the potatoes.
Prepare the dressing with the oil, salt, vinegar and a little mustard. Mix well and add.
Chop parsley and put on top. We can add a little light mayonnaise if we like the potatoes to be creamier.
3/5
Ham and potato cannelloni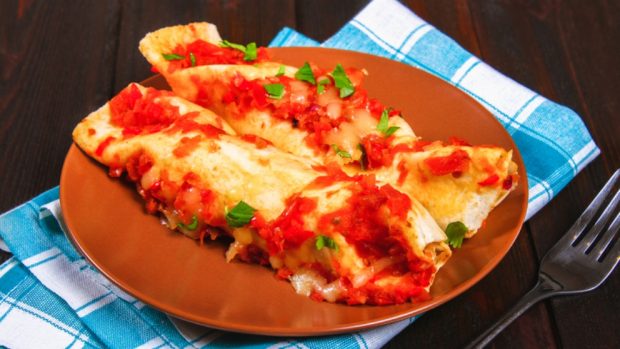 Ham and potato cannelloni are a survival dish that we must have on the list of essentials. We can prepare them with mashed potatoes. The other ingredients are very simple, we just need a slice of ham and a little pâté to give them the necessary grace to succeed in the office.
Ingredients:
125 gr of mashed potato flakes
200 ml of milk
200 ml of water
50 grams of butter
8 slices of ham
200 grams of pate
350 gr of tomato sauce
Grated cheese
Salt
ground black pepper
Elaboration:
Heat the milk in a bowl, season with salt and pepper and add the mashed potato flakes. Stir until you get the right texture.
To give an incredible flavor to the puree, we put a little butter on it. We can make a homemade puree if we have time, although this solution is faster.
We extend the slices of ham. Put a spoonful of pate and two spoonfuls of puree on top. Roll up and place the cannelloni on a baking tray.
We put the tomato sauce on top and a little grated cheese. Gratin a few minutes and we will have an impressive lunch box recipe ready.
4/5
Protein roll with omelette, chicken, spinach and white rice




Instead of assembling the roll with dough, we recommend using an egg this time.
We are going to tell you what are the necessary ingredients to prepare the omelette and later the preparation of it:
1 egg
Salt
Pepper
Oregano
Beat the egg with the seasonings until unified. Put a nonstick skillet over medium heat. Paint the base with olive oil (the egg sticks a lot, the oil has to form a shiny film on the pan to make sure it doesn't stick).
Add the beaten egg, spread it and cook until it comes off the sides with the help of a spatula. Flip and cook a few more seconds.
Remove from heat and assemble the roll. I filled it with what I had been using: chicken, spinach and white rice. I seasoned with ginger powder and soy sauce.
From green leaves I chose the one you like, I opted for spinach, but whatever you choose, wash it all the first day, centrifuge and store it in a bag with two or three sheets of kitchen paper. That keeps it fresh and crisp all week.


5/5
vegetable sandwich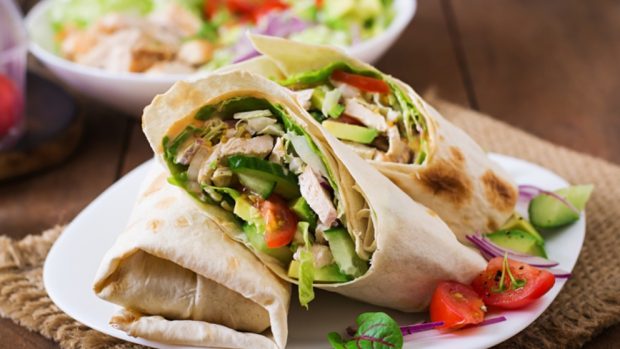 A classic in office menus is the vegetable sandwich , very quick to prepare and healthy, it is perfect for those days when the day gets shorter. A combination of flavors that is especially necessary to take to the office. On those days when work is the main thing, getting a sandwich will help us start it with more joy.
Ingredients:
2 slices of bread
1 tomato
½ cucumber
1 lettuce leaf
3 tablespoons low-fat cheese
Basil
Spinach
Salt
Pepper
Elaboration:
Cut the tomato into slices of the same size. We will place on the two slices of bread.
Above we add the slices of cucumber and lettuce. Season to taste.
Add the cheese and a little basil or fresh spinach.
We cut the sandwich in half and prepare it to go.


Did you take note?📝 Eating can be very easy and delicious. These recipes are ideal for office days.
If you prepare some of the dishes that we have mentioned, take a photo of it📸, upload it to your networks and tag us to see how it turned out! 😍
Sources:
- OK Daily
- VOGUE
- Tastes without reservation